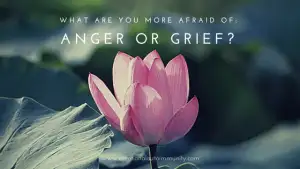 One of the things that we are all really good at is repressing emotions.
You know, stuffing them down?
Using food or alcohol to numb them and make them go away and of course, the problem with doing that is that you then have to deal with the consequences of all that numbing behaviour which causes problems of its own.
The thing is, that we are not taught how to deal with powerful emotions and if we are taught, it's only about the 'good ones', even though many of us still have trouble letting the good stuff in and really feeling it.
But I digress.
There are two key, powerful emotions that most of us are taught to suppress: Anger and Grief.
We are taught that anger isn't "nice".
We are told not to lose our tempers because we may really hurt someone, either emotionally or physically and that can be really scary, especially when you are a kind hearted, caring, sensitive soul.
After all, who wants to do that to someone?
Or you may have lost your temper in the past and something really bad happened as a result.
Maybe you were rejected or abandoned. Maybe you said really hurtful things that you could not take back.
So you learned to become afraid of expressing your anger because the consequences of that could be devastating.
In fact, may people, particularly women, are so afraid that if they really expressed their anger and rage, that worlds would crumble, people would be destroyed and everything would be ruined.
Then their is grief.
As a society, we don't do well with grief and loss.
We don't know what to say.
We don't want to talk about the situation that created the grief in case we upset the person who is grieving or that our own grief gets triggered and takes us over.
And if your situation is one that most people don't even understand as a loss or grief of the self, like developing chronic illness, then it makes it even harder because it is not validated and you can feel even more alone in your grief.
So, you suppress it.
You suppress it because you fear that if you ever really feel your grief, you will sink down into the blackest pit of despair, give up and never recover from it.
You suppress it because you don't want to burden others with your grief in case it upsets them or angers them, which leaves you feeling really isolated and lonely.
The biggest fear behind really connecting to our grief or anger is the fear of rejection.
I will be abandoned.
I will be unloved.
They will not like me or want to be with me anymore.
So, we suppress and slowly what happens over time is that every emotion begins to flatten out.
You stop really feeling anything at all.
The thing that most people don't understand is that you can't selectively repress just one emotion, because all emotions are linked and all emotions have a purpose and need to be expressed through the body, so that they are released.
When they are suppressed, they do not go away.
They create emotional steam, building up pressure that eventually explodes at an entirely inappropriate time where you experience what feels like a massive overreaction to a fairly small, emotional event.
Which makes you feel even more out of control so you suppress a bit more and shut down your emotions and everything begins to blend into the grey sameness of just surviving, instead of living and enjoying and experiencing.
All emotions are worthy and deserving of expression and the sooner they are expressed in an appropriate way, you begin to lose your fear of them.
You feel more confident with your emotions, much more in control and it becomes safe to start feeling again.
So, which one are you more afraid of: Anger or Grief?
Are you finding it hard to find your joy or feel in control of your life or feel like you are just barely holding things together day by day and it's exhausting you?
Are you stuck in survival mode?
There is a way to safely express your anger and grief without rejection.
You can learn how to communicate how you feel, without starting an argument or fearing a confrontation.
You can get to the point where anger and grief are no longer big, terrifying things that you are too afraid to unleash.
How you do this is as simple as booking in your FREE, 20 minute Discovery Session with me, anywhere in the world where our time zones allow, on Skype.
We can talk about where you feel stuck or anxious or overwhelmed and I will tell you what I can do to help you shift from overwhelmed, to in control.
One thing is for sure, if you keep on suppressing your emotions, you will shut yourself down from experiencing all of the good things as well.
And who does't want to feel good?
Kerry Jeffery